Ver. 1.9.5
Ver. 1.1.5 (Universal)
​
Pro GIF / Universal is a mega-package of GIF features. Handles all sorts of GIF file processing and provides very efficient ways for the integration and management of GIF features.
The Pro GIF encoder and decoder are highly optimized and enhanced. Run in threads for better performance and support multiple instances.
Our high-performance decoder lets you display the GIFs instantly, no more waiting!
The Universal version decoder further boosts the decode speed by around 50%. Save decode time! Save more energy!
All our codes and examples are carefully designed to provide a clean, easy to use package. GIF has never been so easy!
​
More than 1 year's development, and constantly(3 years) update for new/unique features, and the best quality! Up to 10 - 15 times faster decoder speed, and better image quality than the first release!
​
Top 10 scripting integration asset and No.1 GIF asset on the Unity Asset Store!
​
Features
<Core>
Record GIF/Convert still images to GIF(support transparent).

Record GIF with camera(s).

Play GIF(support Transparent, Variable Frame Rate, Reverse & Ping-pong play mode).

Load GIF file from local-path/URL, decode, and playback. With option for saving file in local storage.

Rich settings: FPS, Duration, Quality, RepeatCount, Aspect Ratio, Resolution(support auto resize to fit any screen size), Transparent Color(for hiding a particular BG color).

Enable/Disable auto-detection of image transparent setting for recorder.

The encoding & decoding process runs in threads for better performance.
<Advanced>
Advanced decode settings, allows setting how many frames to decode.

Multi-threaded encoder.

Ultra-low memory footprint, even for large number of gif frames.

Supports multiple GIF decode and playback.

Supports multiple GIF recorders with different cameras.

Convert JPG/PNG/Texture2D (List) to GIF.

Crop GIF (with a specific aspect ratio, e.g. 16:9, 3:2, 4:3, 1:1, etc.).

Rotate GIF (90, -90, 180 degrees).

Support save Reverse and Ping-pong play mode GIF.

Easily get the GIF info: image size, frame count, fps, and the first frame texture.

Supports display gifs on Image, RawImage, Renderers(Meshes such as Cube, Plane, Sphere etc...), GuiTexture and any other material that support Texture2D, Sprite, or RenderTexture.

Easy to use GIF Manager: flexible API, auto memory management, battle-tested!
<Extra>
Mobile Media Plugin for saving and picking images (including animated GIF) to/from Android Gallery and iOS Photos, and more.

API helper classes for easily use the GIF API to access the world's largest GIF library.

Use your own GIF channels & API keys.

Share on up-to 15 social platforms.

Optimized Json tool(Newtonsoft.Json), work on mobile & desktop.

OnEditorGifRecorder for recording gif in the Editor play mode. Record the development screens at any time for your app/game promotion on social platforms.

Some more useful stuff.

GIF libraries full source code.
​
​
Support Platform
- Unity5 and newer versions, Pro/Plus & Personal
- Android, iOS, Windows, Mac, Linux, Unity Editor
- All types of Unity render pipelines: Built-in, URP, LWRP, HDRP!!!
​
​
​
Documentation
* Pro GIF package offers the ultra performant libraries for recording, encoding, decoding, and playing GIFs. A complete GIF solution for your indie and even commercial projects, with a relatively affordable price at 99 USD (Suggested commercial price: 199 USD). Consider an upgrade to the Pro GIF Universal version for the best decoder/player library we have and support our developments. All upgrade money is fed back to our product developments, ensure that we can continue to update, and support our products and customers over time.
​
Download/Buy on the Asset Store:
Pro GIF Universal's new decoder(V3) further boosts the decode speed by around 50% faster than Pro GIF(decoder V2). Fully supports interlaced GIFs, compatible with more GIFs on the Internet.
​
Decoder speed:
V1 Decoder (ProGIF v1.0-1.4.x) = 100%
V2 Decoder (ProGIF v1.5-Current) = 1000%
V3 Decoder (ProGIF Universal) = 1500% (Up to 1700% for some GIFs)
Top 10 scripting integration! (2018)
No.1 GIF asset on the Unity

Asset Store

!
Highlights:

The Ultimate GIF playback and recording solutions,

Pro GIF Advanced Recorder & Decoder, highly customizable settings.
​
Super fast, multi-threaded encoder.
​
Super fast decoder, great in performance and compatibility. Decode GIF similar to Chrome, Firefox browser, etc. Plus great functionality provides the best flexibility for handling GIFs.
​
Ultra-low playback memory footprint. Even for a large number of gif frames decoded and stored in the memory.
​
Decoder Version 2 and Version 3. Up to 15 times faster than V1!
(Decoder speed: ProGIF V1=100%, ProGIF V2=1000%, Universal V3=1500%)
​
Supports interlaced GIFs.
Pro GIF - Record GIF and Playback
Pro GIF - Download GIF, Decode GIF to sprites and Playback
Pro GIF - Support Transparency
Complete Giphy API - Social Share
Complete Giphy API - All public APIs
Convert images(JPG/PNG) to Textures to GIF
Giphy API + Multiple Gif Players (Decode)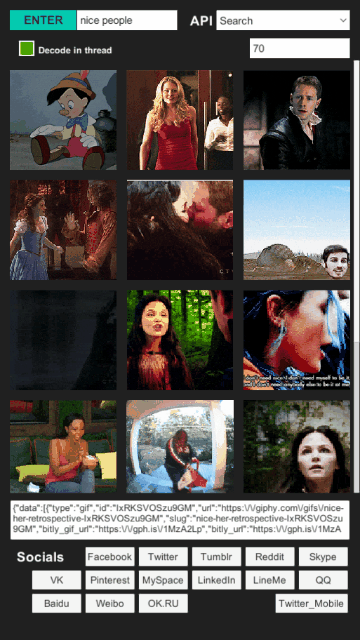 Download multiple GIFs, decode, and playback.
The GIF Managers handle clean up of memory automatically.
Display animated GIF on mesh renderers (Plane, Cube, Sphere, etc.)
OnEditorGifRecorder
Easily record GIF in the Editor, play mode:
Record the development screens at any time! Codeless, just drag the prefab to your scene to record your game and save as GIF. Save time! Promote your game on the social platforms with GIF replay start from now!
Record GIFs with transparency background,
you can select a color to hide in the GIF.
Convert textures/still images to GIF, support auto-detect the alpha value of input image(s)​